Hello friends, today is the last day of my sai baba vrat and so I wanted to share it with all you wonderful people so that some of you may benefit by its sacredness, purity and faith.
Sai Baba fast can be observed by any individual. The procedure of this fast is very easy. Sai Baba fulfils the desire of his devotee. By his grace, wishes come true. Sai Baba give the fruit even before asking. Just by recalling him, the obstacles of life are reduced. It is said that mightiness of Sai Baba has no end. Person having faith in him never faces any disappointment.






Nine Thursday Sai Fast (Vrat)

Sai Baba Vrat can be observed by any ordinary person. Even children can observe this fast. He never differentiate among his devotees. Any one who comes in his shelter whether rich or poor, gets his wishes fulfilled. Sai Baba fast once started should be continued for 9 Thursdays. Any person can start this fast by taking the name of Sai Baba.

On the day of fast, after bathing in the morning, picture or idol of Sai Baba is worshipped. A yellow colored cloth is spread. Then, the idol or picture is placed on it. After this, Tilak of sandalwood is applied to it.
On the picture of Sai Baba, garla




nd of yellow flower should be placed. Sai Baba

Vrat

Katha is read by lightning of incense sticks and lamps. After this, Prasaad of Ladoo, made from gram flour, is distributed. In this fast, fruits are eaten or a meal of one time. Something or other should be eaten. You cant stay empty stomach while observing this Vrat.

This way on keeping the fast for 9 Thursday, it is considered favorable to visit Sai Baba temple. If there is no such temple nearby, the picture of Sai Baba placed at home should be worshipped with full faith and devotion. In any case, don't leave the fast before completing the 9 Thursdays.
A woman named Kokila lived in a city with her husband Maheshbhai. Both of them had love for each other. But Maheshbhai's nature was quarrelsome. He did not have sense of speaking. Neighbours were fed of Maheshbhai's such nature, but Kokila was religious woman.

She had immense faith in God and she suffered everything without uttering a single word. Gradually her husband's business declined and the earnings were also negligible. Now Maheshbhai did not go anywhere and stayed back at home. Moreover he was drawn to wrong path. Now his quarrelsome nature increased two fold.

It was afternoon time. An old man came and stood in front of the house of Kokila. He had a strange glow on his face. He demanded dal-chaval (lentil-rice). Kokila gave to the old man what he demanded and folded her hands before him. The old man said May

Sai bless

you with happiness. Kokila said there is no happiness in my fate and narrated everything about her unhappy life to the old man.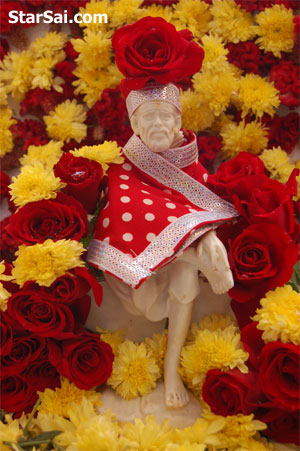 The old man explained the Vrat for 9

Thursdays

. The vrat can be done by eating fruits or by taking lunch or dinner. If possible go to Sai Temple or otherwise worship Sai Baba at home for 9 Thursdays, observe fast and donate food to the hungry people and distribute 5, 11 and 21 Sai Vrat Books according to your economic condition.

If you increase the importance of this Sai Vrat, Sai Baba will fulfill all your desires. But you must have deep faith in Sai Baba and have patience in your mind. If anybody does this Vrat and duly performs its concluding ceremony, Sai Baba fulfills his/her desires.

Kokila did the Vrat for 9 Thursdays, distributed Sai Vrat books and fed the poor on 9th Thursday. Now all the quarrels in her home had disappeared. There was complete happiness as Maheshbhai's nature had changed. His business now came back on track. In a short period, their economic condition also improved and everything became fine.

Both husband and wife started living their life happily. One day Kokila's brother-in-law and his wife came to their home from Surat. Casually talking they told Kokila that their children do not study well. They have failed in exams. Kokila told them about the

importance

of Sai Baba Vrat for 9 Thursdays and said that by worshipping Sai Baba their children would be able to study well. But for that you must have deep faith in Sai Baba. Sai Baba helps everybody. She explained the procedure for the vrat which is as follows:

- This vrat can be done by eating fruits or by taking lunch or dinner.Never do it on an empty stomach.
- If possible go to Sai Baba temple for all 9 Thursdays.
- Any woman, man or child can do this vrat. Worship of Sai Baba photograph must be done for 9 Thursday.
- Offer flowers, light incense sticks and lamp, chant

Arti

and remember Sai Baba's name and distribute prasad.
- On 9th Thursday feed poor people.
- On 9th Thursday distribute Sai Baba Vrat Books among family members and friends.

After few days Kokila received a letter from her brother-in-law's wife that her children does Sai Vrat and have started studying hard. She herself did Sai Baba Vrat and distributed the books in her husband's office. She added that due to Sai Baba Vrat her friend's daughter's marriage was fixed in a very nice family. Moreover her neighbour's ornament box was lost somewhere. As a result of Sai Baba Vrat someone came and returned the box after two months. In this way such

miracles

happened.
Now Kokila came to know that Sai Baba is really very great.
O Sai Baba please shower

Your blessings

on us as You have showered on others.




Sai Baba Vrat Udyapan (Conclusion of Fast)

After completing the 9 Thursday fast, on the last day, 5 poor people are given food and donation as per the capacity. Also, to spread knowledge about him, 7,11 or 21 books of Sai Baba should distributed in the neighbourhood. This way the fast is concluded.






From time immemorial, India contains religious faith and believe in worshipping. Here different religions, classes and culture stay together. Many great saints took birth in India. Miracles performed by many of them are still in talk.

Many stories are famous about the Shirdi's Sai Baba. Crores of Indian have fathomless faith in him. People of all religion come to have his vision. This has increased the popularity of Sai Baba's institutes.

This is nothing else but the miracle of Sai Baba. Today in nation, there are more that 80 thousand big and small temples of Sai Baba.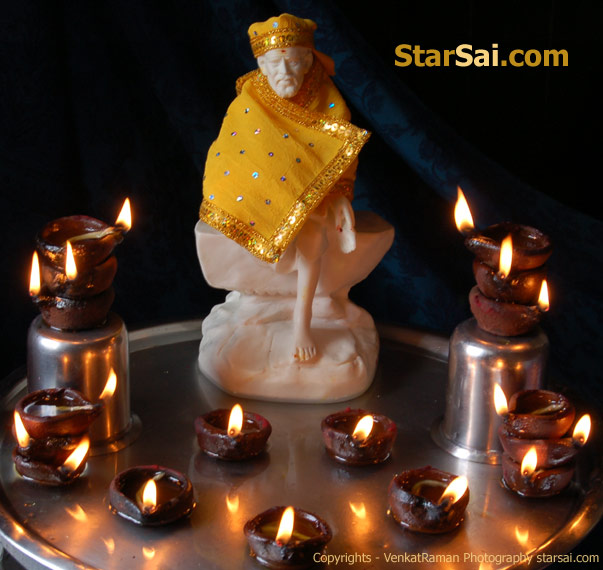 Below are the links for download of baba book in English:
1.
sai vrat katha in english
2.
sai vrat katha in hindi
3.
procedure-and-story-of-sai-vrat in telugu
4.
procedure-and-story-of-sai-vrat-in-hindi
5.
/procedure-and-story-of-sai-vrat-in english
This is the Prasad i made today on completion of my vrat,gajar(carrot) halwa